HPE ProLiant ML30 Gen10 PLUS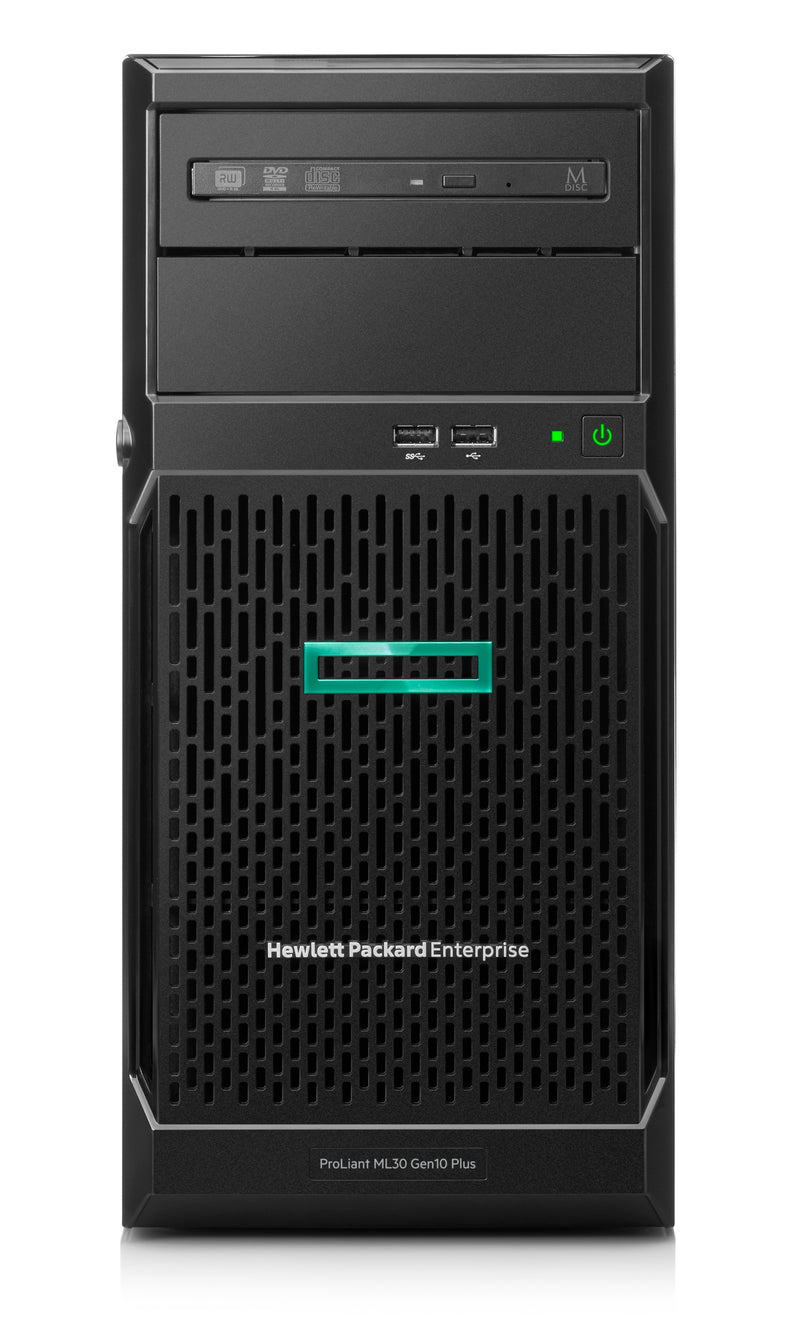 Introducing the new HPE ProLiant ML30 Gen10 PLUS
Cloud Ninjas is proud to be offering this cutting edge rack server that brings performance and efficiency to your business and data center.
Powered by the latest processors the HPE ProLiant ML30 Gen10 PLUS delivers extremely fast processing speeds, opearations, and state of the art parts for heavy work loads.
For the best deals and custom quotes for the HPE ProLiant ML30 Gen10 PLUS email us at Sales@CloudNinjas.com or click the "Request Quote" button below.
Tech Specs
Chassis:
8 Bay SFF
4 Bay LFF
4 Non-Hotswap Bay LFF
Processor types:
Up to one, Intel Xeon E-2300 Series or Intel Pentium G,
housing up to 8 cores and 16 Threads
Memory RAM types:
ECC Unbuffered Memory, up to Max 32GB DDR4
RAM Capacity: 8GB, 16GB, 32GB
Max Configuration UDIMM: 128GB (4x32GB)
Memory Speeds: 2133MT/s to 3200MT/s
CPU Impacts on the available speeds RAM can run.
Storage Options 2.5" Drives
SAS SSDs: 15.36TB @ 12GB/s
SATA SSD: 15.36TB @ 6GB/s
SAS HDD: 2.4TB @ 7.2K
SAS HDD: 2.4TB @ 10K
SAS HDD: 2.4TB @ 15K
SATA HDD: 2TB @ 7.2K
Storage Options 3.5" Drives
SAS SSDs: 15.36TB @ 12GB/s
SATA SSD: 15.36TB @ 6GB/s
SAS HDD: 18TB @ 7.2K
SATA HDD: 18TB @ 7.2K
Power Supplies:
Non Hot Swap 350W Gold 100 to 240 VAC or 240 HVDC
Hot swap 500W Platinum 100 to 240 VAC or 240 HVDC
Systems Management Solutions
Integrated Lights-out 5 (iLO 5)
Storage Controllers RAID Options:
Smart Array S100i Software
Smart Array E208i-p
Smart Array E208e-p
Smart Array P408i-p
Smart Array P408e-p
Smart Array P816i-a
Broadcom MegaRAID MR216i-p
Broadcom MegaRAID MR416i-p
Supported Operating Systems:
Windows Server 2016: Essentials
Windows Server 2016: Standard
Windows Server 2016: Data Center
Windows Server 2019: Essentials
Windows Server 2019: Standard
Windows Server 2019: Data Center
Windows Server 2022: Essentials
Windows Server 2022: Standard
Windows Server 2022: Data Center
Microsoft Hyper-V Server: 2016, 2019 & 2022
VMware vSphere: 6.7 U3 w /P03, 7.0 U2
Red Hat Enterprise Linux (RHEL): 8.6, 9.0 (64 bit, includes KVM)
Canonical Ubuntu: 20.04 LTS (64 bit)
SUSE Linux Enterprise Server (SLES) 15 SP4
VMware ESXi 7.0 U3/8.0
PCIe Network Card Options:
Broadcom BCM5719 Ethernet 1Gb 4-port BASE-T Adapter
Broadcom BCM57412 Ethernet 10Gb 2-port SFP+ Adapter
Broadcom BCM57414 Ethernet 10/25Gb 2-port SFP28 Adapter
Broadcom BCM57416 Ethernet 10Gb 2-port BASE-T Adapter
Intel E810-XXVDA2 Ethernet 10/25Gb 2-port SFP28 Adapter
Intel I350-T4 Ethernet 1Gb 4-port BASE-T Adapter
Intel X710-DA2 Ethernet 10Gb 2-port SFP+ Adapter
Network Interface Card Options (NICs)
Up to 2 NIC ports on the LAN on motherboard (LOM) and up to 4x 25GBe ports integrated on the OCP (Open Compute Project) card
OCP Network Cards:
Broadcom BCM5719 Ethernet 1Gb 4-port BASE-T Adapter
Broadcom BCM57412 Ethernet 10Gb 2-port SFP+ Adapter
Broadcom BCM57414 Ethernet 10/25Gb 2-port SFP28 Adapter
Broadcom BCM57416 Ethernet 10Gb 2-port BASE-T Adapter
Intel E810-XXVDA2 Ethernet 10/25Gb 2-port SFP28 Adapter
Intel I350-T4 Ethernet 1Gb 4-port BASE-T Adapter
Intel X710-DA2 Ethernet 10Gb 2-port SFP+ Adapter
HPE ProLiant ML30 GEN10 PLUS Supported CPUs
| CPU | Step Code | Cores/Threads | Frequency |
| --- | --- | --- | --- |
| Xeon E-2388G | SRKMZ | 8C/16T | 3.2GHz |
| Xeon E-2378G | SRKN1 | 8C/16T | 2.8GHz |
| Xeon E-2378 | SRKN1 | 8C/16T | 2.6GHz |
| Xeon E-2386G | SRKN0 | 6C/12T | 3.5GHz |
| Xeon E-2356G | SRKN2 | 6C/12T | 3.2GHz |
| Xeon E-2336 | SRKN5 | 6C/12T | 2.9GHz |
| CPU | Step Code | Cores/Threads | Frequency |
| --- | --- | --- | --- |
| Xeon E-2374G | SRKN3 | 4C/8T | 3.7GHz |
| Xeon E-2334 | SRKN6 | 4C/8T | 3.4GHz |
| Xeon E-2324G | SRKN7 | 4C/8T | 3.1GHz |
| Xeon E-2314G | SRKN8 | 4C/8T | 2.8GHz |
| Pentium G6405 | N/A | 2C/4T | 4.1GHz |
HPE ProLiant ML30 GEN10 PLUS RAID Options
RAID Options
RAID Levels
Cache
Drive Speeds
PCIe Generation
RAID Hardware
Smart Array S100i
0,1,5,10
None
6 Gb/s SATA
M/A
Software
Smart Array E208i-p
0,1,5,10
None
6 Gb/s SATA
12GB/s SAS
PCIe 3.0
Hardware
Smart Array E208e-p
0,1,5,10
None
6 Gb/s SATA
12GB/s SAS
PCIe 3.0
Hardware
Smart Array P408i-p
0, 1, 5, 6, 10, 50, 60, 1 ADM, 10 ADM
2GB
6 Gb/s SATA
12GB/s SAS
PCIe 3.0
Hardware
Smart Array P408e-p
0, 1, 1 ADM, 5, 6, 10, 10 ADM, 50, 60
4GB
6 Gb/s SATA
12GB/s SAS
PCIe 3.0
Hardware
Smart Array P816i-a
0, 1, 1 ADM, 5, 6, 10, 10 ADM, 50, 60
4GB
6 Gb/s SATA
12GB/s SAS
PCIe 3.0
Hardware
Broadcom MegaRAID MR216i-p
0, 1, 10
4GB
12 Gb/s SAS
6GB/s SATA
16GB/s NVMe
PCIe 4.0
Hardware
Broadcom MegaRAID MR416i-p
0, 1, 5, 6, 10, 50, 60
None
12 Gb/s SAS
6GB/s SAS/SATA
16GB/s NVMe
PCIe 4.0
Hardware
HPE ProLiant ML30 Gen10 PLUS Technical Information and Documentation