Dell PowerEdge R660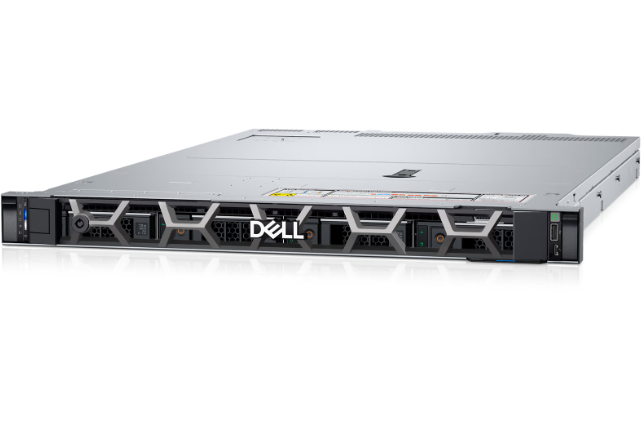 Introducing the new Dell PowerEdge R660
Cloud Ninjas is proud to be offering this cutting edge rack server that brings performance and efficiency to your business and data center.
Powered by the latest processors the Dell PowerEdge R660 delivers extremely fast processing speeds, opearations, and state of the art parts for heavy work loads.
For the best deals and custom quotes for the Dell PowerEdge R660 email us at Sales@CloudNinjas.com or click the "Request Quote" button below.
Tech Specs
Chassis:
8 Bay SFF
10 Bay SFF
14 Bay SFF NVMe
16 Bay SFF NVMe
Rear Bays:
Up to 2x 2.5" SAS/SATA/NVMe
Processor types:
Up to two, 4th generation Intel Xeon Scalable,
housing up to 56 cores and 112 Threads
Memory RAM types:
ECC Registered Memory, up to Max 32 DIMMS DDR5
RAM Capacity: 16GB, 32GB, 64GB, 128GB, 256GB
Max Configuration: 8TB (32x256GB)
Memory Speeds: 4000MT/s to 4800MT/s
Storage Options Only 2.5" Drives
SAS SSDs: 7.62TB @ 12GB/s
SAS SSDs: 7.68TB @ 24GB/s
SATA SSD: 2TB @ 6GB/s
NVMe SSD: 7.68TB @32GB/s
SAS HDD: 2.4TB @ 10K
OpenManage Software:
OpenManage Enterprise
OpenManage Power Manager Plugin
OpenManage Service Plugin
OpenManage Update Manager Plugin
OpenManage Enterprise Integration for VMware vCenter
OpenManage Integration for Microsoft System Center
OpenManage Integration with Windows Admin Center
CloudIQ for PowerEdge plugin
GPU Options:
Power Supplies:
Hot Swap 1800W Titanium 200 to 240 VAC or 240 HVDC
Hot Swap 1400W Platinum 100 to 240 VAC or 240 HVDC
Hot Swap 1100W Titanium 100 to 240 VAC or 240 HVDC
Hot Swap 1100W LVDC
Hot Swap 800W Titanium 100 to 240 VAC or 240 HVDC
Hot Swap 700W Titanium 100 to 240 VAC or 240 HVDC
Systems Management Solutions
iDRAC9 License
iDRAC Direct
iDRAC Service Module
iDRAC RESTful API w/ Redfish
Quick Sync 2 Wireless Module
Storage Controllers RAID Options:
S160 onboard software
BOSS N1
HBA355i
HBA355e
H355
H755N
H755
H965i
Supported Operating Systems:
Red Hat® enterprise Linux 6
Red Hat® enterprise Linux 7
Red Hat® enterprise Linux 8
Red Hat® enterprise Linux 9
SUSE Linux ES 12
SUSE Linux ES 15
Ubuntu Server 16.04 LTS
Ubuntu Server 18.04 LTS
Ubuntu Server 20.04 LTS
Ubuntu Server 22.04 LTS
VMware ESXi 6.0
VMware ESXi 6.5
VMware ESXi 6.7
VMware ESXi 7.0
Windows Server 2012 R2
Windows Server 2016
Windows Server 2019
Windows Server 2022 LTSC
PCIe Options: Up to 3 PCIe slots
Broadcom 5720 Dual Port 1GbE Optional LOM
Broadcom 5719 Quad Port 1GbE BASE-T Adapter, PCIe Low Profile, V2
Broadcom 5719 Quad Port 1GbE BASE-T Adapter, PCIe Full Height, V2
Broadcom 57414 Dual Port 10/25GbE SFP28 Adapter, PCIe Low Profile, V2
Broadcom 57416 Dual Port 10GbE BASE-T Adapter, PCIe Low Profile
Broadcom 57508 Dual Port 100GbE QSFP Adapter, PCIe Low Profile
Broadcom 57454 Quad Port 10GbE BASE-T Adapter, PCIe Low Profile
Intel Ethernet i350 Quad Port 1GbE BASE-T Adapter, PCIe Low Profile, V2
Intel X710-T2L Dual Port 10GbE BASE-T Adapter, PCIe Low Profile
Intel E810-XXV Dual Port 10/25GbE SFP28 Adapter, PCIe Low Profile
Intel E810-CQDA2 Dual Port 100GbE QSFP28 Adapter, PCIe Low Profile
Mellanox ConnectX-6 Single Port HDR VPI Infiniband Adapter, PCIe Low Profile
Mellanox ConnectX-6 Single Port HDR100 QSFP56 Infiniband Adapter, PCIe Low Profile
Mellanox ConnectX-6 DX Dual Port 100GbE QSFP56 Network Adapter, Low Profile
Nvidia ConnectX-6 Lx Dual Port 10/25GbE SFP28 Adapter, PCIe Low Profile
Nvidia ConnectX-7 Single Port NDR200 OSFP PCIe Adapter, Low Profile
Network Interface Card Options (NICs)
Up to 2 NIC ports on the LAN on motherboard (LOM) and up to 4x 25GB ports integrated on the OCP (Open Compute Project) card
NVMe, PCIe Storage Adapters, GPU/FPGA/Accelaration cards, Boot Optimized Storage Cards
HBA355e Adapter FH & LP, DIB
NVIDIA L4, PCIe, 72W, 24GB Passive, Single Wide Low Profile
BOSS-N1 controller card + with 1 M.2 480GB (RAID 0)
BOSS-N1 controller card + with 2 M.2 480GB (RAID 1)
BOSS-N1 controller card + with 1 M.2 960GB (RAID 0)
BOSS-N1 controller card + with 2 M.2 960GB (RAID 1)
Dell PowerEdge R660 Supported CPUs
| CPU | Step Code | Cores/Threads | Frequency |
| --- | --- | --- | --- |
| Bronze 3408U | SRMGB | 8C/16T | 1.8GHz |
| Silver 4410Y | SRMGE | 12C/24T | 2.0GHz |
| Silver 4416+ | SRMGG | 20C/40T | 2.0GHz |
| Gold 5411N | SRMGY | 24C/48T | 1.9GHz |
| Gold 5412U | SRMGJ | 24C/48T | 2.1GHz |
| Gold 5415+ | SRMGC | 8C/16T | 2.9GHz |
| Gold 5416S | SRMH2 | 16C/32T | 2.0GHz |
| Gold 5418N | SRMGX | 24C/48T | 1.8GHz |
| Gold 5418Y | SRMGH | 24C/48T | 2.0GHz |
| Gold 5420+ | SRMGL | 28C/56T | 2.0GHz |
| Gold 6414U | SRM73 | 32C/64T | 2.0GHz |
| Gold 6421N | SRMH0 | 32C/64T | 1.8GHz |
| Gold 6426Y | SRMGF | 16C/32T | 2.5GHz |
| Gold 6428N | SRMGZ | 32C/64T | 1.8GHz |
| Gold 6430 | SRM7A | 32C/64T | 2.1GHz |
| Gold 6434 | SRMGD | 8C/16T | 3.7GHz |
| CPU | Step Code | Cores/Threads | Frequency |
| --- | --- | --- | --- |
| Gold 6438M | SRMH3 | 32C/64T | 2.2GHz |
| Gold 6438N | SRMH1 | 32C/64T | 2.0GHz |
| Gold 6438Y+ | SRMGM | 32C/64T | 2.0GHz |
| Gold 6442Y | SRMGK | 24C/48T | 2.6GHz |
| Gold 6444Y | SRMGQ | 16C/32T | 3.6GHz |
| Gold 6448Y | SRMGN | 32C/64T | 2.1GHz |
| Gold 6454S | SRM7B | 32C/64T | 2.2GHz |
| Gold 6458Q | SRMGR | 32C/64T | 3.1GHz |
| Platinum 8452Y | SRM7W | 36C/72T | 2.0GHz |
| Platinum 8460Y+ | SRM77 | 40C/80T | 2.0GHz |
| Platinum 8462Y+ | SRMGP | 32C/64T | 2.8GHz |
| Platinum 8468 | SRM76 | 48C/96T | 2.1GHz |
| Platinum 8470 | SRM75 | 52C/104T | 2.0GHz |
| Platinum 8470N | SRM7M | 52C/104T | 1.7GHz |
| Platinum 8470Q | SRM74 | 52C/104T | 2.1GHz |
| Platinum 8471N | SRM7G | 52C/104T | 1.8GHz |
| Platinum 8480+ | SRM7H | 56C/112T | 2.0GHz |
Dell PowerEdge R660 RAID Options
RAID Options
RAID Levels
Cache
Drive Speeds
PCIe Generation
RAID Hardware
S160 onboard software
0,1,5,10
None
6 Gb/s SATA/NVMe
N/A
Software
BOSS N1
Single drive RAID 0 and Dual Drive Raid 1
Disk Policy
8 GT/s NVMe
PCIe 3.0
Hardware
HBA355i
Passthrough
None
3 Gb/s SATA
6GB/s SATA/SAS
12GB/s SAS
Gen3 (8GT/s) NVMe
PCIe 4.0
Hardware
HBA355e
Passthrough
None
3 Gb/s SATA
6 Gb/s SAS/SATA
12GB/s SAS
Gen3 (8GT/s) NVMe
PCIe 4.0
Hardware
H355
0, 1, 10
None
3Gb/s SATA
6Gb/s SAS/SATA
12GB/s SAS
Gen3 (8GT/s) NVMe
PCIe 4.0
Hardware
H755N
0, 1, 5, 6, 10, 50, 60
8GB DDR4
2666MT/s
Gen3 (8GT/s) NVMe
Gen4 (16GT/s) NVMe
PCIe 4.0
Hardware
H755
0, 1, 5, 6, 10, 50, 60
8GB DDR4
2666MT/s
3 Gb/s SATA
12 Gb/s SAS
6GB/s SAS/SATA
Gen3 (8GT/s) NVMe
Gen4 (16GT/s) NVMe
PCIe 4.0
Hardware
H965i
0, 1, 5, 6, 10, 50, 60
8GB DDR4
3200MT/s
3 Gb/s SATA
12 Gb/s SAS
6GB/s SAS/SATA
Gen3 (8GT/s) NVMe
Gen4 (16GT/s) NVMe
PCIe 4.0
Hardware
Dell PowerEdge R660 Technical Information and Documentation